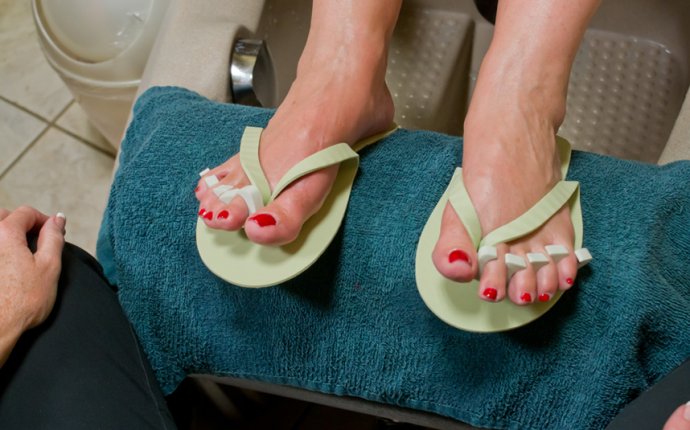 Classic pedicure

One of the most popular salon treatments that is enjoyed by both women and men around the world, is the classic pedicure. Most pedicures will start off with a cleansing foot soak that provides the skin with softening ingredients that will help in the overall treatment process. Exfoliating is a popular addition to the classic pedicure, helping to smooth rough edges, slough off dead skin cells and leave behind great looking feet that you will be proud to show off. The spa version of the pedicure also includes skin softening lotions and moisturizers, which are massaged into feet and legs from a relaxing, rejuvenating experience.
Cristallo Spa and Salon features a wide variety of services, but is also known throughout the area as a popular Southeastern Massachusetts nail salon, providing manicures, pedicures, massages, body treatments and specialty options, such as a UV gel manicure and pedicure, unique foot soaking products and softening creams. Visit this beautifully designed nail salon in Rehoboth, located within the scenic property of the Hillside Country Club. Call to book an appointment, but walk-ins are welcome!
Beneficial Side-Effects of Getting a Pedicure
When you visit your local salon for a classic pedicure, you are getting much more than a coat of fresh polish and a good soak in a sweet smelling bath. There are many beneficial side-effects to getting a pedicure at a professional Southeastern Massachusetts nail salon that you just can't get by taking care of grooming at home.
#1 – Dry Skin Treatment
Living in the New England area – or even just visiting to enjoy the winter season – can mean dealing with dry, seasonal skin. When you visit the Cristallo spa and nail salon in Rehoboth, our technicians can help you beat the effects of dryness by scrubbing and exfoliating your feet to help soften them, especially the big toe and heel areas, which suffer the most damage. Even severely dry skin, cracked heels and cuticle issues can be mended through proper treatment options when you get a classic pedicure.
#2 – Healthy Nail Care
When you remove polish and put new polish on at home, you can't really look at your feet and spot out potential problems, conditions and issues the way that a professional pedicurist can. When you come into the local Southeastern Massachusetts nail salon on a regular basis for classic pedicure or UV gel manicure services, your technician can spot out any disorders, infections, conditions and potential problems right away. They may be able to treat some of the problems on-site, but some issues will require medical attention. However, spotting out these issues before they become big problems will help you cure them faster.
Source: cristallospa.com